>
Home
>
Ministries & Pastor's Corner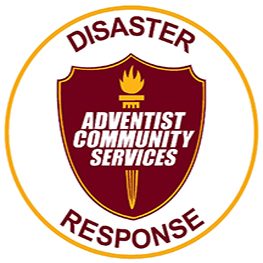 Adventist Community Services Disaster Response.
Panama City Florida Disaster Preparedness
In Panama City we live along the Florida Gulf Coast and while other Natural Disasters are possible our biggest and most likely threat will come from Hurricanes,Tropical Storms and Tornadoes.  Each family is advised to put together a 72 Hour Evacuation Kit for each family member, as detailed by the North American Division Disaster Relief Program, at the link Below:
72 Hour Evacuation Kit:
http://static1.squarespace.com/static/54c685b3e4b0f8fbaf030c60/t/569972e6be7b964be75eb737/1452896999022/72+Hour+Evacuation+Kit.pdf
Adventist Community Services Disaster Response (ACS-DR)
Church Members interested in participating in Disaster Response activities are required to have basic training in the major areas of Disaster Response.  Each member is encouraged to read the online training provided at the links below.  Church members who will work with ACS-DR in a declared Emergency or Disaster Area will need to pass a written exam and have an offical certified ACS-DR Photo ID, issued by the Gulf States Conference Disaster Response Director, Ray Elsberry.  For ID Badges please contact Pastor Ray Elsberry at elsberrr@juno.com (205) 648-3806 or Deputy Director Tommy Warren (251) 422-5781.
Online Training
To ensure proper training and to help speed up the certification process the following training is now available online. The Panama City ACD-DR Coordinator is currently working with the Gulf States Conference DR Director's staff to obtain testing materials and a truncated onsite certification review for those folks who have completed the review of the materials presented at the links below:

1.  ACS DR Training Manual,  Introduction to Disaster Preparedness:
http://static1.squarespace.com/static/54c685b3e4b0f8fbaf030c60/t/5644ddb1e4b0089b6c79d9d4/1447353777593/Introduction+to+Disaster+Preparedness+Manual.pdf
Powerpoint Slides Link:
http://www.communityservices.org/s/Introduction-to-Disaster-Preparedness-2009.ppt

Video: (Highly Reccomended)
http://www.triangelmedia.com/acs/ASC%20DVD/
2.  ACS National Disaster Response Plan:
http://static1.squarespace.com/static/54c685b3e4b0f8fbaf030c60/t/553a7658e4b01eb73c98f09a/1429894744857/NatlDisasterResponsePlan09-06-07Final11.pdf
3.  Recommended Free Online FEMA Training  (optional):
Get a Student Independent Study ID  at https://cdp.dhs.gov/femasid
Then Consider Taking Each Course Online at:  http://www.training.fema.gov/is/
IS-100b          Introduction to Incident Command System
IS-288.a         The Role of Voluntary Organizations in Emergency Management
IS-324.a         Community Hurricane Preparedness
IS-700.a         National Incident Management System
IS-800.b         National Response Framework, An Introduction
Local Adventist Community Services FAQ's & Community Services Reporting Forms:
http://www.communityservices.org/s/ACSDR-Local-Church-Coord-Intro-Final.pdf
Panama City Seventh-day Adventist Church
Disaster Response Coordinator:
Sam Woodall, 850.235.5027
Adventist Community Services Coordinator:
Melissa Kesler, 850.914.3024